Let's Make Movie Magic!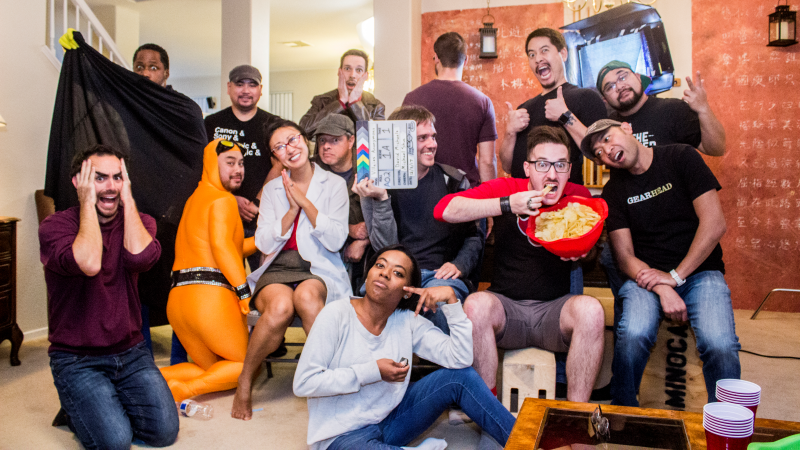 Mission
I feel there's too much pain, loneliness, and sadness in the world. I want to make people feel good. As a multimedia storyteller (tv/film director, actor, writer, producer), I can magically transport people to another world, take them on a meaningful emotional journey, make them laugh and cry, provide catharsis and connection, inspire their imaginations, and more. Through multimedia entertainment, I can put more light, love, and laughter into the world.
Specialty
That's why, as a filmmaker, I specialize in comedies, feel-good dramas with positive/inspirational messages, and character-driven sci-fi/fantasy adventures that combine heart, character growth, and awe-inspiring imaginary worlds.
Directing Style
I'm an "actor's director" — as an actor myself, I know first-hand how their creative process works. I've helped actors deliver emotionally powerful performances that even they didn't know they were capable of. I know how to empower my team, create a safe, fun, and collaborative environment, and inspire and bring out the best in everyone in every department.
There's no ego here. As a director, it's my job to help us collectively tell the best story possible, on budget and on time. I know how to clearly and effectively communicate what I want and need. And at the same time, I also listen to my team's input and create opportunities for them to pitch ideas on how to make the scene or film even better, in alignment with that vision.
The Future
I'm always learning, growing, and self-improving. Growth is a never-ending process. In the past, I've written, directed, and produced award-winning short films on essentially a "zero" budget. I've worked on set, both as an actor and a crew member, on a variety of both independent and mainstream productions of all budget levels.
Now, as I look to the future, I'm excited about the emergence of virtual production. I don't have any experience working on a virtual production set yet, but that's next on my list. It's going to be a huge part of the future of filmmaking. And I want to be a part of it.
Love to Collaborate
I'm an entrepreneur, independent filmmaker, successful author, talented actor, and more. I sometimes produce my own projects. I often collaborate with and join on other teams too. And even if I can't help out directly, I love referring talented people I know who may be exactly what you need.
If I can help you on your project somehow, please let me know. I'm here to help.
Let's make movie magic — and make the world a better place in the process.
Award-Winning Sample Work
Being There
A romantic drama about being there for the ones we love and finding the courage to follow our dreams.
Villains Anonymous
A comedy about a support group for ex-super villains.
Directing Resume
Film Director, Story Editor
"Crypto Dingo – Season 1" (30 episodes)
Comedy – Sketch
Originc, LLC
Feb 2022 – July 2022
Film Director, Co-Writer
"The Legend of Taco Tuesday"
Comedy – Short Film
Guerilla Aesthete Productions
Nov 2021 – Nov 2021
Film Director
"Three Lefts Make a Right"
Comedy – Short Film
Burbank Improv Group
Feb 2018 – Mar 2018
Film Director, Screenwriter
"Villains Anonymous"
Comedy – Short Film
AminoCat Entertainment
Aug 2017 – Jan 2018
Television Director
"Palomar Live – Season 3" (2 episodes)
Live Morning Talk Show – Half-Hour
Palomar Live
Aug 2016 – Dec 2016
Film Director, Screenwriter
"Being There"
Drama, Romance – Short Film
Inspired Alchemy Media
Oct 2015 – Aug 2016
Film Director, Screenwriter
"Happily Ever After"
Romance – Short Film
Galactic Minions
Aug 2015 – Aug 2015
Film Director, Screenwriter
"Mirror Mirror"
Comedy – Short Film
Leaping Lizards Productions
Jan 2015 – May 2015
Film Director
"God Help Our Angels"
Romantic Comedy – Short Film
Leaping Lizards Productions
Mar 2014 – Aug 2014